PJR - FULL SPRAY | Roof Sprayer w/ GRACO Fusion PC
PJR FULL SPRAY: 2-Part Adhesive Applicator Cart is the top rated spray foam adhesive applicator system in roofing. The PJR FULL SPRAY package is a high performance, high quality and high speed adhesive applicator. This one of a kind patented design is a low-maintenance spray foam rig capable of applying a wide range of materials across various applications while utilizing different spray pattern options that save you time & money on the job. Comes Fully Assembled and Ready to Spray!
COMPATIBILITY: 15 Gallon Drums, Bag in a Box, A+B Adhesive Jugs
INCLUDES:
(1) GRACO Fusion ProConnect PC Gun, (1) GRACO OEM Reactor E15p
(1) 3,000w Generator
(3) Bundle hose (A-Side + B-Side, and Air Hose)
(1) Air Compressor (Mounted to PJR)
(1) Patented Amped Green PJR Cart w/ all standard PJR components
Proudly Made In The USA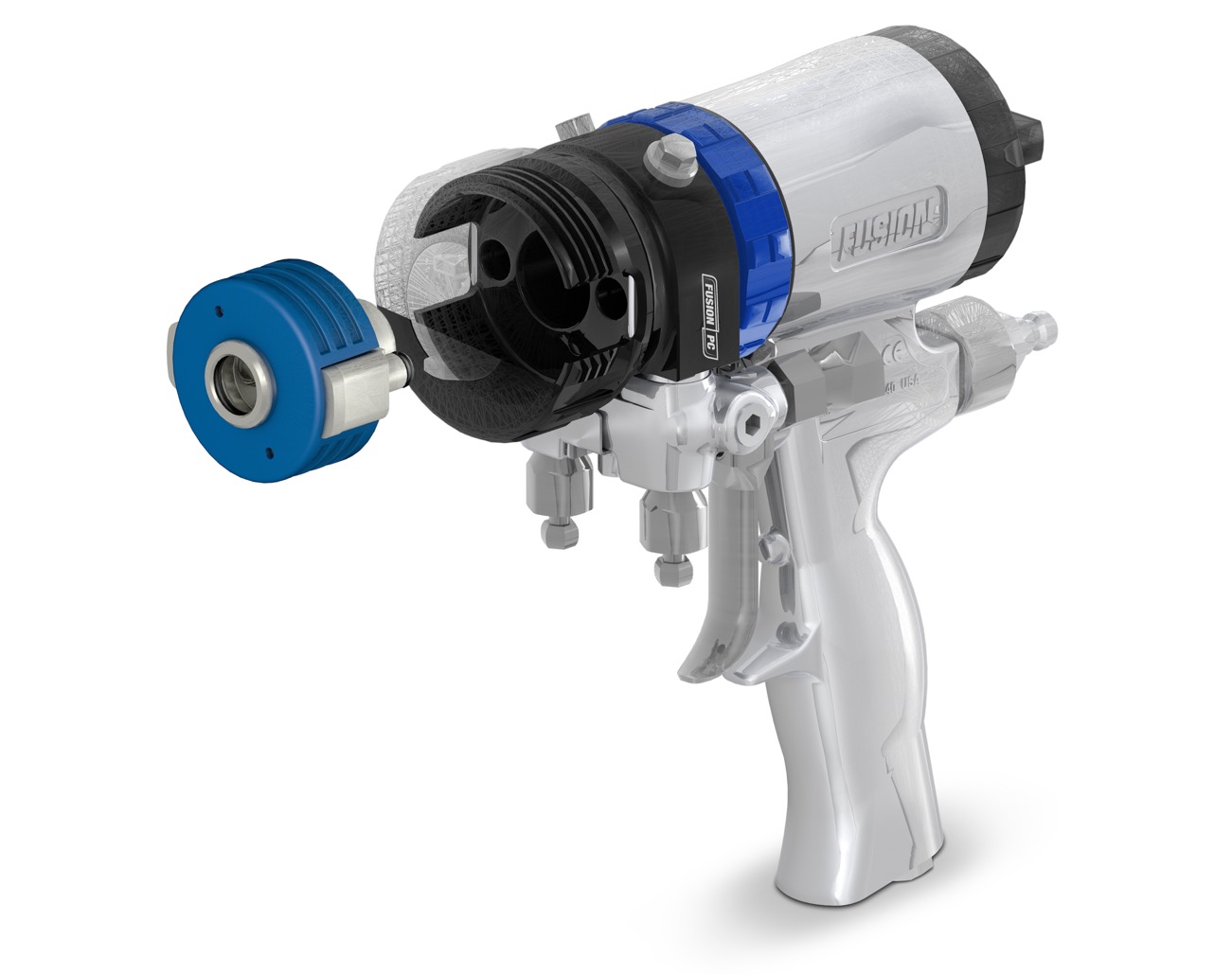 This product has special shipping needs
Financing Available for orders over $1,000
The PJR FULL SPRAY is the premier mobile two-part spray foam adhesive applicator cart for commercial roofing applications. This Patented design was developed at the request of an industry leading manufacturer of low-rise foam adhesive to meet the market demand for a fully mobile, self contained, low cost, fleeceback and bag in a box adhesive dispensing cart. The PJR FULL SPRAY comes with the new GRACO Fusion ProConnect (PC) which features a disposable cartridge head that replaces multiple individual parts with a single component! By easily replacing the cartridge it allows for a much faster rebuild, keeping your crew spraying, minimizing costly downtime on the job.
Compatible with a variety of roofing systems
SPRAYS: Versatile enough for 15 Gallon Drums, Bag In a Box, and Jugs
Compatible with VEE AIR gun, Static fusion gun, Fusion AP Air Purge Gun, Fusion PC Pro Connect gun, or a standard VEE manifiold gun
Easy to maneuver
Easy to operate
Comes Full Assembled and Ready to Spray!
Minimizes downtime
Increases speed, efficiency of spray applications 
Saves you time and money on any size job!
Patriot Junior Roof Sprayer Documents: Manuals, Parts List, OEM Graco Reactor Pump Overview + more
More about The PJR Full Spray Mobile Roof Sprayer for Two-Part Adhesive Roofing Applications:
The PJR has become popular & well known in a short amount of time across North America & parts of Europe because of it's simple, lightweight, efficient & effective design. This inexpensive mobile spray foam system uses an OEM Custom GRACO Reactor E15p as the main feature. The PJR is the #1 spray cart in the industry for good reason.. It is the most cost effective spray foam system of its kind, paying for itself after 1 medium size job. Whether you're expanding your existing insulation application opportunities or just starting your business, the PJR provides a quick return on investment.
FAQ: Why get a Pace Cart if you can save more money & time with a PJR?
More Information

| | |
| --- | --- |
| SKU | PJR-STATICPLUS |
| Manufacturer Part Number | PJR-FULL-SPRAY-GRACO-FUSION |
| Manufacturer | Amped Equipment |
| Weight | 600lb |
| Country of Manufacture | United States |
| Length | 48in |
| Width | 52in |
| Height | 40in |
The PJR Patriot Junior Full Spray roofing adhesive spray cart is the go-to choice among roofers over the foampak predator cart, the hulk 4 c's cart, the pace cart, the cyclone and many others because it is fast, efficient, reliable and saves you time and money on any sized job. 
PATRIOT JUNIOR ROOF SPRAYER DOCUMENTS:
Why get a Pace Cart if you can save more money & time with a PJR?
More about The PJR:
Haul it in your van or pickup truck
Handle and wheels make it easy to maneuver
Plugs into a standard residential outlet 15amp @ 120V
Easy to read pressure gauges ensure you're spraying on-ratio and delivering high-quality foam
An economical alternative to froth kits, pace carts, cyclones, millenium carts and other sluggish technology. 
Did you know? The PJR was the #1 Spray Cart in the industry again in 2019, 2020, and 2021! Thank you for your support! 
Did you know? The PJR was the top rated adhesive applicator system in commercial roofing in 2018, 2019, 2020 and 2021, maintaining the title of the #1 choice for best Low-Rise Foam A+B Adhesive Spray Cart among Roofers across North America. 
Did you know? The PJR was the best in roofing again last year, maintaining the title of top rated #1 Spray Cart In Roofing for 2019! 
Frequently Asked Questions Regarding Roof Sprayers and Adhesive applicator Equipment 2022:
Why get a Pace Cart if you can save more money & time with a PJR?
What is the best roofing adhesive sprayer for applying two part TPO glue? 
What is the best EPDM Roof glue application method?
What is the best way to apply two part pvc spray foam adhesive glue on large commercial roofing job?
What is an approved roof sprayer for Firestone roofing adhesive?
What is the best approved spray applicator for spraying Carlisle fleeceback low-rise foam adhesives?
What is the best applicator gun for applying TPO roof glues? 
How to apply bag in a box adhesive on roof membranes.
How to apply plural component roof adhesive sprays fast and easy.
How to apply roofing membrane A+B adhesives with mobile cart system.
Is the PJR patriot roof cart approved for GAF glue?
Recommended items & accessories